2018 Season Highlights
---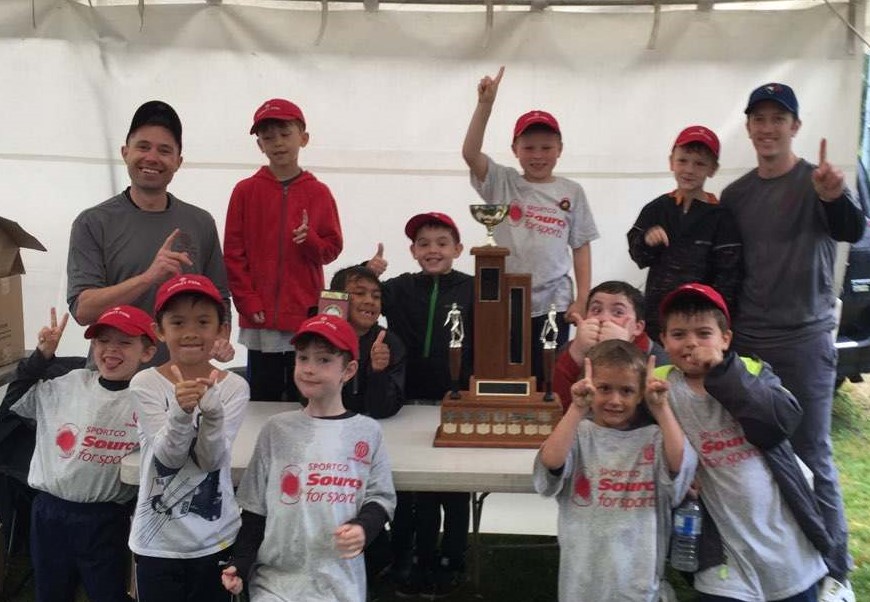 PHOTO: The Sportco team and their Senior T-Ball Championship trophy! Well done!
June 2018
This was the annual wrap-up party for the Blastball, T-Ball and 3-Pitch program. It was usually held the last Saturday in June before school ended for the summer and included the championship games, medallion presentations to all participants, refreshments and a variety of activities. For the 2019 season, players will receive their photos, trading cards, medallions, etc. at their final game (during the week ending June 22) which will be scheduled in compliance with their team's preferred playing days.
Activities varied somewhat from year to year but often included face-painting, a "jumping" http://www.stanleyparkoptimist.com/album/841castle (or two), a promotional booth from the City (life-saving in 2017 and 2018), and more! A light lunch (hot-dogs --- 1,600 on hand for 2018 --- that's light!) and entertainment by ERICK.
2018's event included healthy snacks for all players (clementine oranges, fibre bars and juice pack) in addition to a bottle of water and a hotdog! The rain dampened things a bit in 2018 --- perhaps an understatement --- but when it let up, the celebration was even better!
Tentworks provided a HUGE tent for our headquarters operation and the Stanley Park Optimist Club brought numerous tents so the food, entertainment and Kitchener swim camp could operate throughout and people needing a dry spot had some shelter. We hoped for SUN! Well, at least the real rain was relatively brief and the plants needed some water!
All activities (except candy floss) were free for registered players wearing their uniform. Players (through their coaches) were each provided with a "food ticket" good for a hot-dog and drink. An agenda was provided for each year's event with times varying depending on the finishing times of the games, weather conditions and actual enrolment figures in the various leagues.
HIGHLITES FROM HOTDOG DAY 2018: The wrap-up party!
TEAM TROPHIES, PHOTOS, ETC. Team coaches started receiving these for their players starting approx. 10:40 with BLASTBALL, followed immediately by JUNIOR T-BALL, SENIOR T-BALL, and then the 3 PITCH teams. The whole procedure took just over 45 minutes.
OPENING CEREMONIES (Remarks from the Mayor, etc) took place at approximately: 11:25 AM. followed by individual recognition awards.
INDIVIDUAL RECOGNITION AWARDS
List of award recipients for Senior 3-Pitch
Sportsmanship Award: Aiden Ventura-Dolinar ATS
Rookie of the Year: Marco Peveroni Diekat
Team MVP: Proctor Carson PSG Plumbing
Sportsmanship Award: Marlowe Vuckovic Kirley Mr KW Landscaper
Sportsmanship Award: Keydon Kraehling Burgess Flooring
Sportsmanship Award: Kate Jessop Tentworks
Sportsmanship Award: Rylie Heimbecker TextNow
Outstanding player: Farah McKellar Tentworks
List of award recipients for Junior 3-Pitch
League MVP: Phoenix Loschnig Kitchener Citizen
Sportsmanship Award: Brooke Puumalainen Milton's Restaurant
Sportsmanship Award: Evan Hamilton Helmutz Interlock
Sportsmanship Award: Milo Hunter Mayburry Electric
Sportsmanship Award: Eoin Godfrey Wonder Tots
Outstanding Player: Kate Reader Hiller Truck
Sportsmanship Award: Nathan Thompson bauhaus
Team MVP: Liam DeSoto Alfran Trophies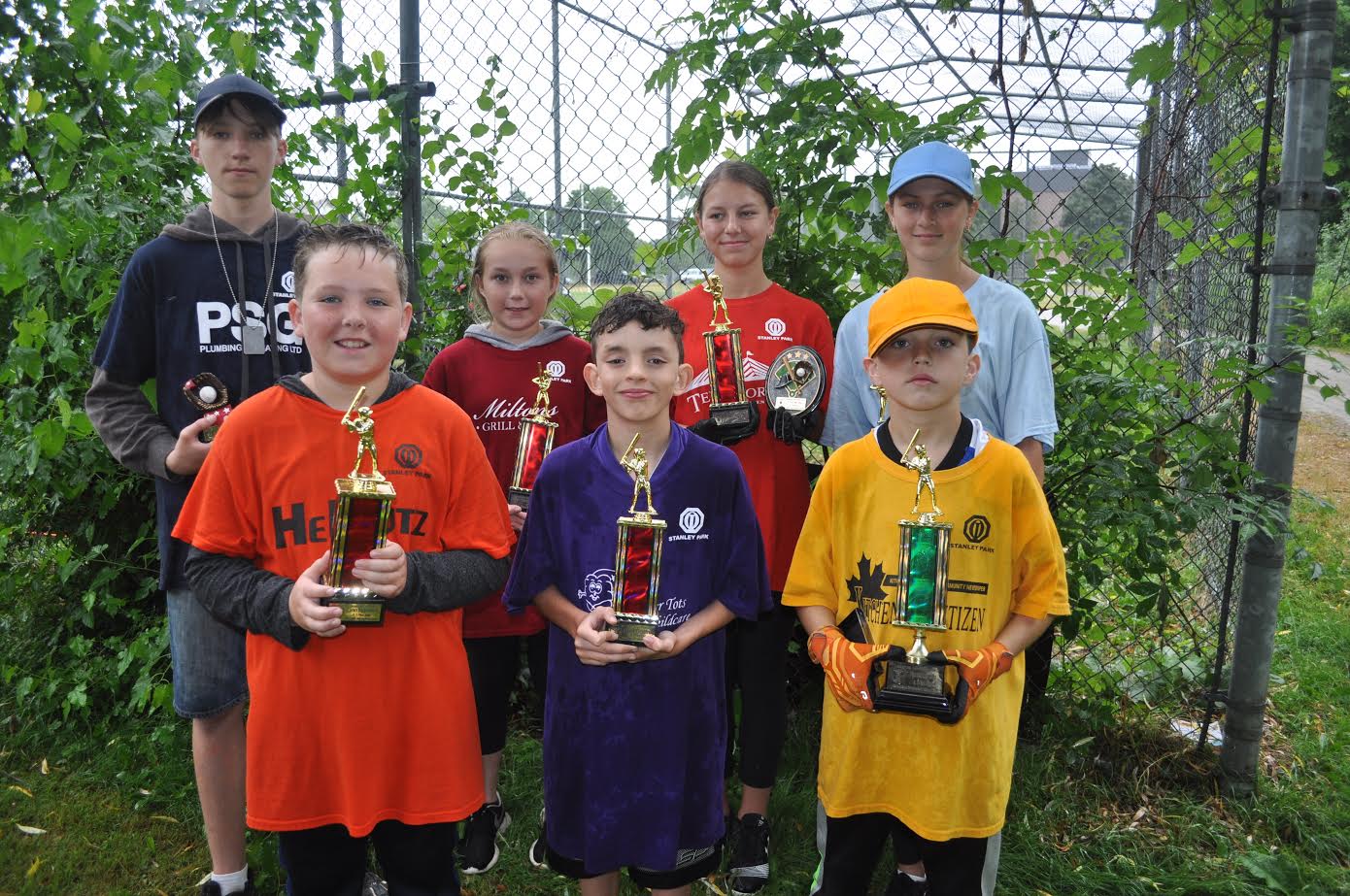 PHOTO: Some of the players who received individual recognition for their performance and contributions:(Back: L-R) Proctor Carson,Brooke Puumalainen, Farah McKellar, Rylie Heimbecker. (Front): Evan Hamilton, Eoin Godfrey and Phoenix Loschnig
CHAMPIONSHIP PRESENTATION TROPHIES FOR 2018:
Senior T-Ball:
Consolation Champions: PM Windows
Consolation Finalists: PSG Masonry
Finalists: TD Bank
Champions: Sportco
Junior 3-Pitch:
Consolation Champions: Hiller Truck
Consolation Finalists: Wonder Tots
Finalists: Milton's Bar & Grill
Champions: Helmutz Interlock
Senior 3-Pitch:
Consolation Champions: PSG Plumbing
Consolation Finalists: ATS
Finalists: Diekat Crane
Champions: TextNow
ERICK was back playing before noon and entertained right through to 1:00 PM. Those that came at 1:00 pm missed everything and we missed you! Contact your team's coach to arrange to pick up your child's items. Have a great summer!
Photos of the 2018 HotDog Day Wrap-up Event
Final League Standings
| SENIOR T-BALL | GP | W | L | T | WIN % | PTS | RF | RA | DIFF | STRK | LAST 6 |
| --- | --- | --- | --- | --- | --- | --- | --- | --- | --- | --- | --- |
| Sportco | 7 | 5 | 1 | 1 | .786 | 11 | 68 | 64 | 4 | L1 | 4-1-1 |
| PM Windows | 7 | 5 | 2 | 0 | .714 | 10 | 68 | 65 | 3 | W4 | 4-2-0 |
| TD Canada Trust | 7 | 5 | 2 | 0 | .714 | 10 | 68 | 65 | 3 | W3 | 5-1-0 |
| PSG Masonry | 7 | 3 | 3 | 1 | .500 | 7 | 66 | 66 | 0 | W1 | 3-2-1 |
| R & S Screening | 7 | 3 | 4 | 0 | .429 | 6 | 66 | 67 | -1 | L2 | 2-4-0 |
| First Choice Haircutters | 7 | 3 | 4 | 0 | .429 | 6 | 66 | 67 | -1 | W1 | 3-3-0 |
| Durnin Motors | 7 | 2 | 5 | 0 | .286 | 4 | 65 | 68 | -3 | L1 | 2-4-0 |
| ATS | 7 | 1 | 6 | 0 | .143 | 2 | 64 | 69 | -5 | L6 | 0-6-0 |
| JUNIOR 3-PITCH | GP | W | L | T | WIN % | PTS | RF | RA | DIFF | STRK | LAST 6 |
| --- | --- | --- | --- | --- | --- | --- | --- | --- | --- | --- | --- |
| Hiller Truck Tech | 7 | 6 | 1 | 0 | .857 | 12 | 184 | 125 | 59 | W2 | 5-1-0 |
| Wonder Tots | 7 | 4 | 3 | 0 | .571 | 8 | 149 | 133 | 16 | W1 | 3-3-0 |
| Helmutz Interlock | 7 | 4 | 3 | 0 | .571 | 8 | 121 | 115 | 6 | L1 | 3-3-0 |
| Milton's Restaurant | 7 | 4 | 3 | 0 | .571 | 8 | 108 | 116 | -8 | L1 | 4-2-0 |
| bauhaus | 7 | 3 | 4 | 0 | .429 | 6 | 150 | 164 | -14 | L1 | 3-3-0 |
| Kitchener Citizen | 7 | 3 | 4 | 0 | .429 | 6 | 158 | 161 | -3 | L1 | 3-3-0 |
| Mayburry Electric | 7 | 3 | 4 | 0 | .429 | 6 | 145 | 169 | -24 | W1 | 2-4-0 |
| Alfran Trophies | 7 | 1 | 6 | 0 | .143 | 2 | 127 | 159 | -32 | L2 | 1-5-0 |
| SENIOR 3-PITCH | GP | W | L | T | WIN % | PTS | RF | RA | DIFF | STRK | LAST 6 |
| --- | --- | --- | --- | --- | --- | --- | --- | --- | --- | --- | --- |
| DieKat | 6 | 6 | 0 | 0 | 1.000 | 12 | 160 | 109 | 51 | W6 | 6-0-0 |
| PSG Plumbing | 6 | 4 | 1 | 1 | .750 | 9 | 129 | 71 | 58 | W4 | 4-1-1 |
| TextNow | 6 | 4 | 2 | 0 | .667 | 8 | 118 | 90 | 28 | L2 | 4-2-0 |
| ATS | 6 | 3 | 3 | 0 | .500 | 6 | 135 | 145 | -10 | L1 | 3-3-0 |
| Burgess Flooring | 6 | 2 | 3 | 1 | .417 | 5 | 125 | 136 | -11 | W1 | 2-3-1 |
| Tentworks | 6 | 1 | 5 | 0 | .167 | 2 | 119 | 120 | -1 | L5 | 1-5-0 |
| Mr KW Landscaper | 6 | 0 | 6 | 0 | .000 | 0 | 79 | 194 | -115 | L6 | 0-6-0 |