Junior T-Ball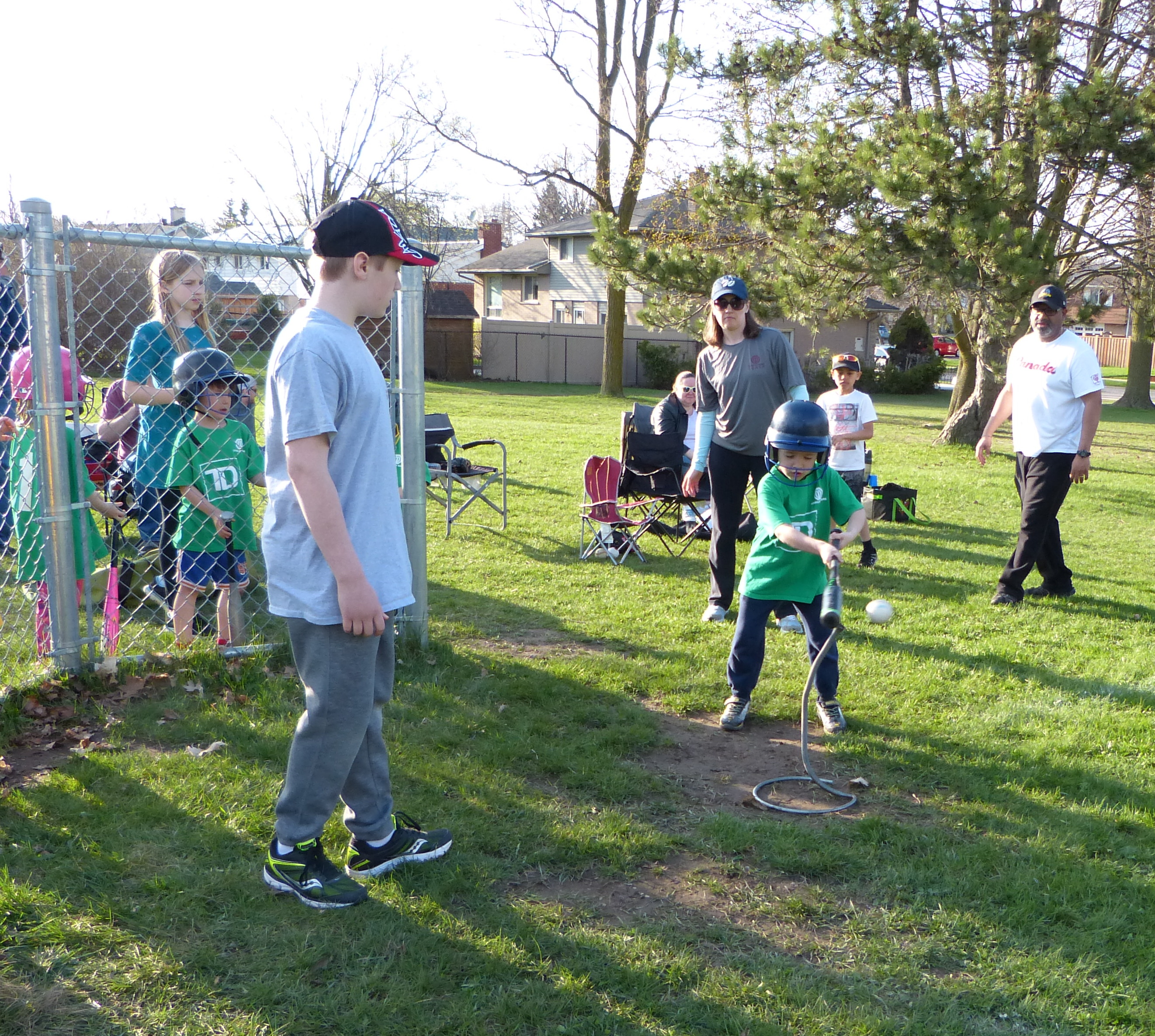 Our Junior T-Ball teams are usually scheduled to play two games per week on days to suit the availability of each player as indicated when registering. The length of each game is determined by the participants and their parents but is generally approximately an hour or so with the actual game play-time extending as the weather improves and daylight stays with us longer. (Individual players may arrive late and/or leave early.)
Teams have a maximum of 11 players and, as per T-Ball rules, all 11 bat each inning. We try to get at least 3 innings in at each game session. There are no "enforced" outs and no automatic bases awarded for errors.
In 2017, in conjunction with the City of Kitchener and a grant from the Kitchener Sports Association, we added two play areas (for Junior T-Ball) to the Franklin Park site and one at Midland Park. In 2019, again with financial support from KSA, an additional play area was installed at Franklin Park. These additions are entirely grass, i.e. no dirt infields, and help facilitate scheduling for families with multiple players in our program. They also help us keep our games in the Stanley Park area of Kitchener.
We encourage teams to hold mini pre-game warm-ups and practice drills. Some individual one-on-one coaching is always beneficial for player skill development and confidence. We encourage teams to hold post-game meetings with refreshments --- we encourage "healthy snacks" for the players. The team's Snack Coordinator will be responsible for coordinating and promoting healthy snacks. As of 2022, each team is also expected to have a Health/Safety Coordinator to ensure that any (and ALL) safety protocols are being adhered to and play as at the safety standard decided upon by the team's participants.
The more parental/adult help and guidance, the more the kids can learn about the game and develop their skills. The more success they have, the more fun it is for everyone. No scores are kept at this level so it's all stress-free! There are no declared game winners/losers.
Players at this level usually have their own ball glove but don't require anything elaborate - and remember that they'll soon grow out of it. We mandate that all batters and all base-runners wear a helmet. We supply some helmets to each team for use, on a shared basis, but you may wish to purchase your own. The catcher and pitcher are required to wear helmets with face protection, i.e. a mask, which is also supplied. Use of face protection for other infielders (mandatory as of 2015 in our Senior T-Ball and 3-Pitch leagues) is still optional for the Junior T-Ball league.
Since 2015 we have been utilizing a safety base at first in Junior T-Ball. (This means all our players, except Blastball, are now using the same base sets.)
So, other than a beginner's glove (and we do have inventory of gloves to lend to those in need of one), all that's needed is a pair of running shoes. We strongly recommend long pants. A team team-shirt and team hat is supplied. Sunscreen, water and a jacket are good items for the player to have available at the game for use as needed.
Teams are required to utilize different defensive positioning each inning so each player has the opportunity to play every position several times over the course of the season.
You have the opportunity to indicate day(s) you can't play.
Teams are limited to 11 players so no one ever sits out.
We use a "soft-core" ball made for T-Ball use to minimize injuries.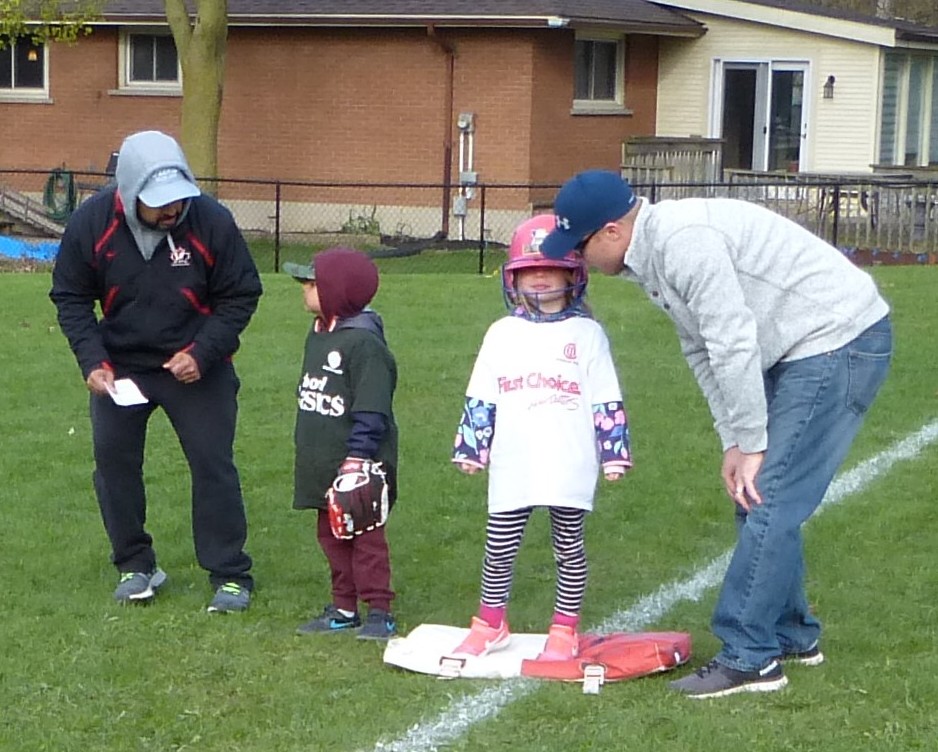 Junior T-Ball photos from: 2022 2019 2018 2017 2016 2015 2014